ESP
Entre el 4 y 8 de septiembre 2017 se realizó en Chile, en la ciudad de La Serena, el IV Congreso Internacional de Áreas Marinas Protegidas – IMPAC4.  En esta ocasión el Consorcio TICCA apoyó la participación de una delegación de 11 personas integrada por profesionales y líderes de comunidades indígenas y locales provenientes del sur de Chile, quienes en diversos espacios pudieron exponer su visión sobre la conservación marina desde sus particularidades culturales y territoriales.
El Congreso estuvo marcado por llamativos anuncios del gobierno de Chile sobre la creación de nuevas áreas marinas protegidas, celebrando que con más de 1 millón de km2 –que corresponde a más del 20% de su superficie marina– se haya superado la austera Meta Aichi del 10%, y esté en camino de alcanzar la meta del 30% de protección para el 2030, declarada en el último Congreso de UICN, Hawaii 2016.
Para leer el informe completo, haga clic AQUÍ.
ENG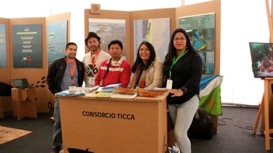 Between September 4th through 8th 2017, the IV International Congress of Marine Protected Areas – IMPAC4 was held in La Serena, Chile. On this occasion, the ICCA Consortium supported the participation of a delegation made up  of 11 professionals and leaders of indigenous and local communities from southern Chile, who in various spaces were able to present their vision on marine conservation from their cultural and territorial particularities.
The Congress was marked by notable announcements from the Chilean government on the creation of new protected marine areas, celebrating that the more than 1 million km2 – which corresponds to more than 20% of its marine area – has surpassed the Aichi Target of 10%, and is on track to meet the 30% protection target for 2030, which wasdeclared at the last IUCN Congress, Hawaii 2016.
To read the full report, click HERE.