Teodoro Brawner Baguilat Jr., or Teddy as he is popularly known, has been the Congressman for the lone district of Ifugao in the Philippines since 2010.
He has also been Governor of Ifugao (2001-2004; 2007-2010) and Mayor of Kiangan (1995-2000), a municipality of Ifugao.
As a member of the Ifugao indigenous tribe in Northern Philippines, Teddy champions the cause of all indigenous peoples. He chaired the Philippine Congress's Committee on National Cultural Communities from 2010 to 2013 and was Vice Chairperson of the Committee on Indigenous Peoples from 2013-2016. He has proposed laws protecting the rights of indigenous peoples and promoting their culture, such as bills designed to specifically protect ICCAs, manage forest resources, rehabilitate and preserve the Ifugao Rice Terraces, and the bill against the discrimination of marginalized sectors, including indigenous peoples. He also authored a bill for a national land use act in the country that includes ancestral lands as one of the three main land domains in the country.
Teddy has spoken in various international conferences on ICCAs, conservation and heritage sites, human rights and indigenous cultures. In these forums he has emphasized indigenous practices as key to overcoming current environmental and sustainability challenges worldwide.
Please see here for more details in Teddy's full cv.
In response to his nomination, Teddy sent the following message: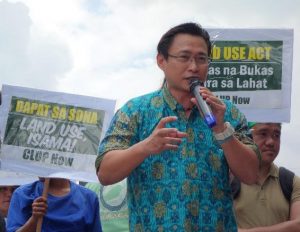 I am Teddy Brawner Baguilat of the Tuwali tribe of Ifugao and the Gaddang Tribe of Nueva Vizcaya provinces in Northern Philippines. I am the current elected representative of the Lone District of Ifugao to the Philippine House of Representatives. I am humbled and honoured to accept the nomination of BUKLURAN Inc. (Philippine ICCA Consortium) for the leadership of the Global ICCA Consortium. While there is apprehension among many about my being a politician, I believe I have been using my "skills" to benefit the marginalized sectors, particularly indigenous peoples, as well as small farmers and fisherfolk. Beyond Ifugao, I have tried to broaden spaces for dialogue and build bridges for conflict resolution of various IP and farmer issues, from mining, development aggression, agrarian reform and land use conflicts. As a lawmaker, I am now working with KASAPI and other Indigenous Cultural Communities for the passage of a Philippine ICCA bill in Congress to ensure that IP conservation practices are sustained and to help secure IP access to their territory and resources. I have also filed other "green" bills to push for environmental conservation and the rational management and use of our limited natural resources, including our ancestral land and waters. As I have dedicated myself to serve my fellow IPs as an elected Philippine official since 1992 to the present, so do I commit to work vigorously in promoting the goals of the ICCA Consortium if chosen as its President. I intend to lead the Consortium recognizing the knowledge and wisdom of the Consortium Council, the Elders and other trusted advisors staunchly promoting IP self-determination and their pivotal role in conservation and sustainable development.
25 October 2018