This is the second in a series of discussions facilitated by NTFP-EP Philippines, on the wealth of wisdom of Indigenous communities on traditional and wild foods
By Gaby Alegre, Advocacy & Communications Officer at NTFP-EP Philippines. NTFP-EP is a Member of the ICCA Consortium
Non-Timber Forest Products – Exchange Programme (NTFP-EP) Philippines held an online exchange titled Indigenous Voices: Water, Biodiversity, and Food For All on February 10, 2021, in celebration of World Wetlands Day and as a part of the Terra Madre Salone del Gusto slow food festival. The event was livestreamed on Facebook.
The online event provided a space for Indigenous youth and women leaders to share insights and experiences about water and customary governance systems. The discussion was focused on challenges of Indigenous water governance and ways forward for Indigenous peoples' and community conserved areas and territories (ICCAs), as well as its links to food sovereignty. 
The exchange started with a call from the youth: a cultural piece by the basbasonon, or the second liners of the Higaunons of MAMACILA Higaunon Tribal Community in Misamis Oriental, in the southern island of Mindanao, in the Philippines. The young group shared, through a chant and traditional dance, how they are contributing to the protection of their Indigenous community conserved areas, called Pina. Their Pina must be conserved and protected in a way that remembers and recognizes the customary laws that have been passed on from their elders.
This call to recognize Indigenous governance was echoed by women and youth voices in the main panel. Grigie Malo-ay,  a youth leader from MAMACILA in Misamis Oriental; Nolsita Siyang, a Pala'wan woman leader and farmer from Brooke's Point, Palawan, and part of women's group, Mga Kalebonan et BICAMM (The Women of BICAMM); and Conchita Conchada Calzado, president of the Dumagat women's federation, the Kababaihang Dumagat ng Sierra Madre (KGat) in Luzon, Philippines spoke as the main panelists. The three panelists shared their distinct contexts and practices of Indigenous water governance, and the common thread of clean water and biodiversity having a direct influence on food sovereignty.
Grigie Malo-ay highlighted the importance of their community's conservation of their ancestral domain, especially as they are in the headwaters of major rivers in the Tagoloan River Basin in Misamis Oriental. He emphasized how conservation of watersheds directly benefits the communities in downstream areas with clean water, soil quality, livelihoods, agriculture, and food.
Nolsita Siyang highlighted the rituals the Pala'wans still practice, and their regular tree planting, in honor of nature. She said, "Nature is important to us— our lives depend on it; the forest is our market, and the river, our life."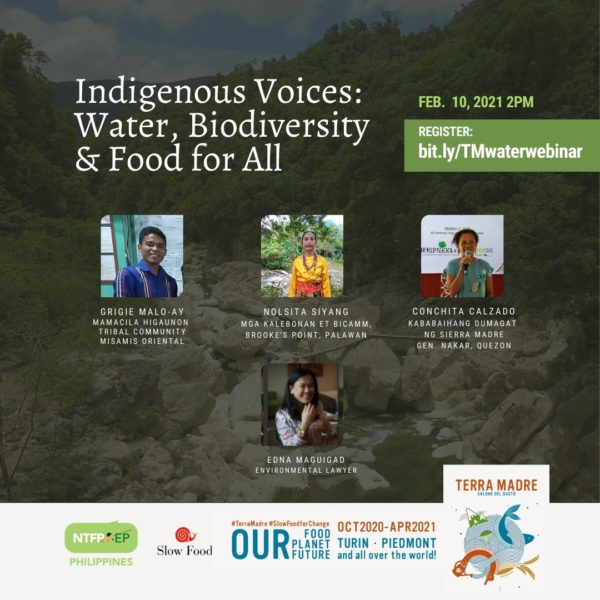 Conchita Calzado shared similar practices among Agta-Dumagats in the Sierra Madre who rely on free-flowing rivers in the watershed in their daily life such as traditional spearfishing, without the use of any destructive chemicals. She said, "While we are not the only ones in control of caring for our waters, we have our ways of caring and conserving them, ensuring that they will be sustainable, not contaminated, and passed on to the next generation." Calzado also expressed her mounting concerns over the planned mega Kaliwa Dam in the Sierra Madre.
An environmental lawyer, Edna Maguigad, responded to the exchange with a brief overview of water-related policies and water rights in the context of the Philippines' Indigenous People's Rights Act (IPRA), with a call to support Indigenous governance, towards more inclusive water management and food security for all.
Amidst internet connectivity issues, Grigie Malo-ay, connecting from mountains of Misamis Oriental, in the open forum, called on his fellow youth to act as a bridge to local government agencies outside their community, while acting in conserving their sacred Pina. "Our conservation of our Pina will result in the well-being not just of our people, but others as well. We must protect our forests, our environment, and most especially our waters, without water, we would have no life."
Benny Cumatang, a Higaunon Indigenous peoples mandatory representative to the municipality of Impasug-ong, Bukidnon, and member of the Non-Timber Forest Products – Exchange Programme Philippines Board of Trustees synthesized the discussion, highlighting the role of indigenous youth.
"[Youth] have to cultivate a close relationship with elders, who are culture bearers and cultural masters, to learn all aspects of protecting the ancestral domain— especially the waters. The youth are the "hands", "eyes," and "ears" of our ancestral domains. Likewise, the council of leaders must organize the youth, as they are the next in line for governance," said Benny Cumatang.
The online exchange gathered individuals from diverse backgrounds—civil society and government, private sector, and partner Indigenous communities, and members of the academia. This is the second in a series of discussions facilitated by NTFP-EP Philippines, on the wealth of wisdom of Indigenous communities on traditional and wild foods, community-led conservation, and its importance to good, clean, and fair food for all. 
Featured image: Screenshot from MAMACILA youth presentation.