The ICCA Consortium extends our deep condolences and love to the family, friends and colleagues of Khadija Catherine Razavi, co-founder and Chair of the Board of CENESTA, and beloved wife of our late founding president, Dr. Taghi Farvar
By Cenesta (ICCA Consortium Member)
It is with a broken heart and extreme sadness that we have to inform you all that our beloved Chair of the Board, Khadija Catherine Razavi, passed away on Saturday 16 April 2022.
Catherine was an outspoken, strong, and unwavering voice for the non-human environment and an important advocate for the persistent existence of Indigenous Peoples and local communities and the integrity of their territories. Catherine worked tirelessly, steadfastly and she was resolved in her belief that Iran already has ancestral knowledge and culture that ensure food security and sovereignty, sustainable use of water resources, conservation of pastures, and many other aspects of life.
She was a warm and loving mother, friend, grandmother, and project leader. Our beloved Catherine walked step by step with nomads in their summering and wintering grounds all across Iran. Catherine considered environmental protection to be an integral part of the lives of local communities, especially nomads, and a process of sustainable development and crucial for the survival of all people in the country. She loved all the cultural manifestations of Indigenous Peoples and local communities; she considered them symbols of the identity of the Iranian societies. Our dear Catherine saw beyond the constraints of development and the seeing nature as a thing to be dominated over. She never failed to remind us that our native and Indigenous knowledge was far more valuable and effective for the cultural survival of Iranian societies, languages, and ceremonies. Mother Nature has lost one of its most dedicated advocates.
Khadijah Catherine Razavi and Mohammad Taghi Farvar established the Centre for Sustainable Development and Environment (CENESTA) and through it, hundreds of facilitators and experts in the field of social and sustainable development were trained, dozens of environmental projects are implemented including wildlife protection, sustainable livelihoods, poverty alleviation, combating desertification and degradation of land, food security and sovereignty, stabilization of social structure and empowerment of local communities, especially nomadic tribes. She stood strong and tall against voices that would pollute the native strands of agricultural crops as well as schemes for invading important biodiversity sites such as Miankaleh and Ashuradeh.
CENESTA understandably will take some time to come to terms with this sad news. In the meantime, we remember her love, her tireless work as a voice for the rights of local small-scale farmers, and send our love and thoughts to her family and friends. We are determined to honor her rich legacy and continue her struggle.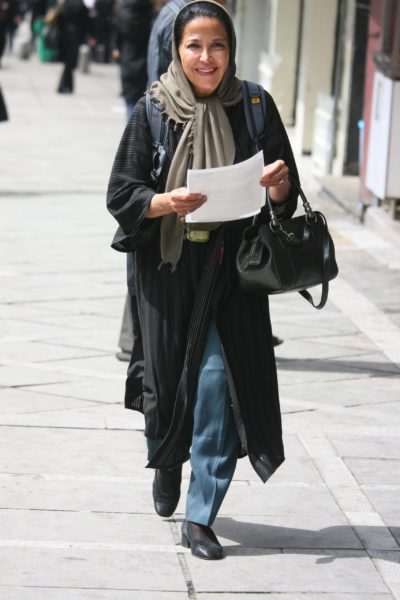 Lady of Water and Peace, your death has increased the pain of Iran's environmental friends, local and indigenous peoples and has plunged your friends into endless sorrow. What bitter news!
But such living must be celebrated! Lady of Spring, your concern for a better and greener tomorrow will be our mission for the days without you.
Unassuming teacher! Will the ocean end? Will the glory of your gaze be forgotten for a better tomorrow?
Your children, your students, colleagues, and your friends are so accustomed to your green message for the soil, water, and lives in this land that your name and memory and what you have taught us will be engraved line by line in our lives forever.
Blessed be your name! The glory is yours!
On behalf of the CENESTA Family
Please visit this page: http://www.cenesta.org/fa/razavi/ to share condolence messages, photos or stories.
Iran's Nature Lost a Loving and Kind Mother!
Dr. Khadija Catherine Razavi passed away on April 16 2022. Defenders of the environment, nature conservation and Indigenous and local communities of Iran have lost one of their most knowledgeable and sincere activists. Catherine was born in July 1944, and together with her late husband, Dr. Mohammad Taghi Farvar, a well-known activist and facilitator, she worked on one of the most important rural development projects in Iran: the Alashtar Regional Development Plan, which was underway during the 1970s. In the early 1980s they founded the NGO, Center for Sustainable Development and the Environment (CENESTA) – one of the oldest and most active NGOs in Iran.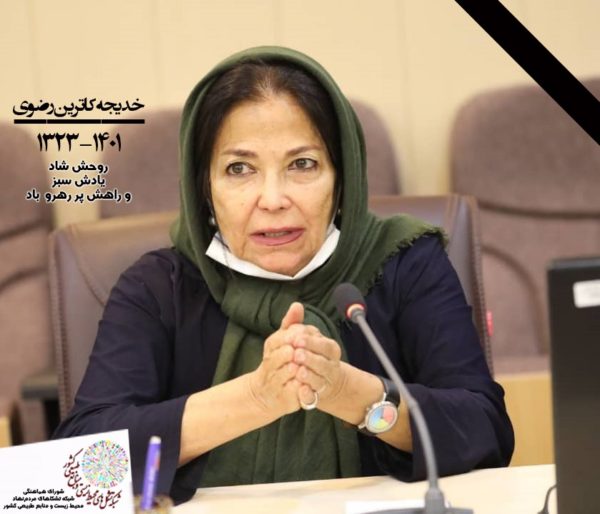 She had a Bachelor's degree in Biology from the National University of Tehran, a Bachelor's degree in Education and Physiology and a Master's in Economics from the University of Caen in France. She received a Doctorate of Social Sciences and Rural Development from Sorbonne University in Paris.
As CEO and Chairman of the Board of CENESTA, she was one of the leading activists on environmental protection and empowering Indigenous and local communities over more than four decades of her professional life. With mastery of several languages (Persian, French, Turkish, English and Arabic), her valuable efforts at the national and international levels will never be forgotten – both to raise awareness of environmental issues, and to sensitize and awaken the human conscience to take practical action to preserve mother earth and biocultural diversity. At the international level she played a key role in the Council of the Global Environment Facility and as an advocate for the rights of nomadic peoples at the UN Convention on Combatting Desertification. Her vision was of a society based on sustainability, with a focus on rural and nomadic communities, small farmers, forest dwellers, and marine coastal communities.
Catherine was an unassuming activist who lovingly sought to safeguard both the land of Iran and her people. She led many of CENESTA's programs and projects, including "Living with the desert", "Highlighting and using indigenous knowledge against desertification and land degradation", "Promoting indigenous and environmentally friendly technologies", "Supporting the rights of indigenous and local communities, particularly nomadic tribes", "Integrated Pest Management", "Participatory Plant Breeding" and "Participatory Evolutionary Breeding". She played a key role in raising public awareness on the harms of GMOs.
She will always be remembered as someone who played an important role in sharing knowledge and raising awareness of different segments of society and in safeguarding the environment of Iran. All of us – as friends, acquaintances, colleagues and the environmental community of Iran – will proudly engrave her name on our hearts as someone who was a mother for nature. May her soul be uplifted and her path be a fruitful one.
~ Nahid Naghizadeh (CENESTA)