First published on 03/09/2021, and last updated on 03/31/2021
Josefina Tunki, president of the Shuar Arutam People (PSHA), of the Ecuadorian Amazon, filed a complaint with the Sucúa Prosecutor's Office against Solaris Resources' Vice President of Operations Federico Velásquez. She alleges receiving a death threat by telephone from Velásquez
By Pueblo Shuar Arutam (PSHA), ICCA Consortium Member
I
n a video posted on March 8, International Women's Day, the Shuar Arutam People underscored the Shuar women's rejection of large-scale mining projects and disseminated President Josefina Tunki's denouncement of threats against her. "I have been directly targeted with threats from Federico Velásquez, manager of Solaris, a company based in Warints," Josefina declared this Sunday, February 28, at a press conference at the Interprovincial Federation of Shuar Centers.
Fifty-six per cent of the territory of the Shuar Arutam People (PSHA), located in the Cordillera del Cóndor in the Morona Santiago Province, has been concessioned to large-scale mining, oil and hydroelectric projects without consultation. The Shuar Arutam People, guardian of 232,533 hectares of tropical rainforest, have voiced on multiple occasions their opposition to large-scale mining projects, as they generate conflict and uncertainty in their territory.
For this reason, on January 29, 2021, the PSHA and the Public Services International (PSI), a global federation of unions that brings together more than 700 unions in 154 countries, filed a complaint with the International Labor Organization against the Ecuadorian State for violation of Convention 169. While the complaint with the ILO was being prepared, President Josefina Tunki received a death threat via telephone, allegedly from the manager of Canadian [mining company] Solaris Resources.
According to the president, the objective of this threat is to intimidate PSHA and pressure them not to bring their case before the ILO. According to Josefina, the threatening words were "If they continue to bother me with national and international complaints, we will have to take off one of their heads." Despite this, she remains firm in her leadership position: "I am the first woman leading the PSHA government. Solaris and Federico Velásquez will be held directly responsible If there is an accident," Tunki warned.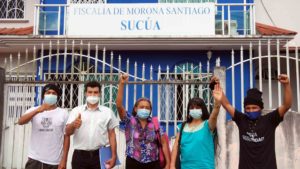 Faced with this situation, Josefina Tunki filed a complaint with the Sucúa Criminal Prosecutor's Office against Solaris and its manager Federico Velasquez for threats and intimidation.
Solaris Resources continues to carry out exploration activities in the Shuar territory for the development of the Warintza mining project, which puts at risk the basin and micro-basin systems of the Shuar territory and will affect several of the communities represented by PSHA. Despite the strong rejection of large-scale mining by the Shuar Arutam People, Solaris recently announced that it would double its drilling program in Shuar territory.
For more information about the case, please read the alert published by the ICCA Consortium in November 2020.
Translated from Spanish by MiningWatch Canada