'Orans' of Rajasthan are considered community conserved areas (CCAs) that act as a storehouse of biological wild gene pool, enable effective water management and serve as a community based regeneration system. CCAs are a pan-Indian phenomenon, known by different names in all parts of the country. There are local differences in institutional arrangements and of course in biodiversity composition, however they display a common feature, namely that they are all community-oriented in their use and management.
On 15-16 July 2017 in Jodhpur, India, a conference was held to discuss the community-level observations through scientific led mix on communities' livelihoods and on local environments, in order to build on the local efforts to cope with as well as adapt to these changes by the local communities. In other words, the adaptation options required in order to respond to the short and long term scenario to sustain livelihoods of the local communities (i.e. Orans/Charnot) consisting of poor farmers, agro-pastorals, nomadic communities and so on as to have resilient system consisting of productive ecosystems and strengthened local institutions and policy frameworks. The workshop produced policy recommendations such as Orans and Charnots/Gaucher should not be considered as 'wastelands' (in terms of land revenue classification), as is the case at the present time. Rather, they should be clearly demarcated, and their legal status elucidated with a special revenue category pertaining to community forests.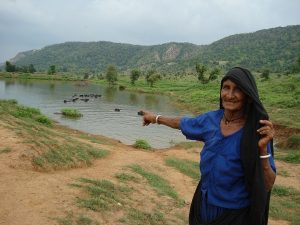 Oran land should not be allotted for other purposes such as the establishment of Wind Energy/ Special Economic Zones (SEZ), the plantation of bio-fuels, construction work or allotment for agriculture or housing, military camps etc. The workshop was organised in an effort to remove sources of ambiguity in Oran classification and of promoting greater recognition of community interests and roles in Oran maintenance.
Most importantly, a plan of action was developed and adopted that will help protect Orans and restore cultural practices that have always kept them conserved and sustainable. Click HERE to view the complete Declaration.
For more information, please contact Aman Singh, ICCA Consortium Steering Committee Member with special responsibility for South Asia, and founder of Krapavis at krapavis_oran@rediffmail.com or Neema Pathak Broome, ICCA Consortium coordinator for South Asia at neema.pb@gmail.com.