By: Lijiang Institute of Health and Environment
The Liguang Community Conserved Area locates in Liguang Village, Liming Country, Yulong County, Lijiang City, Yunnan Province, China. Lisu minority are the indigenous residents. There are about 1,370 people engaged in simple planting and breeding. The community conserved areas have been under construction since May 2015. By the end of 2017, a total of 12 villager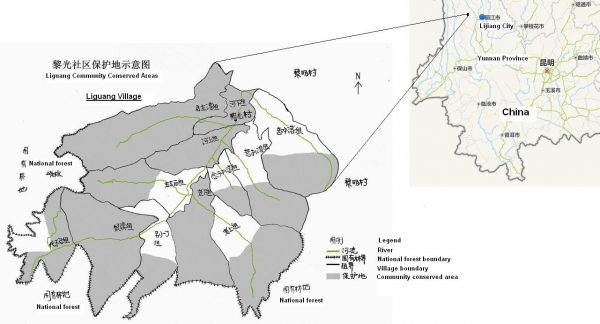 groups' community conserved areas are established, with approximately 77.16 square kilometers, accounting for 52.13% of the overall area of Liguang village.
Of the 12 groups in Liguang administrative village, most of them are Lisu minority. Eeah group has their own forest and territories and their own established community conserved areas (CCA) according their local ecology. For the ICCA registry, every group elected delegates of their CCA, and these delegates discussed how to apply and register in ICCA system. In the end, they decided to register the Liguang Community Conserved Area including 12 CCAs from 12 groups with the thought that they are one family and wish to be recognized and respected as Lisu minority.
Indigenous residents in communities strove to rebuilt their community governance mechanisms, such as establishing village rules and regulations, to increase the sense of community identity for all members of the community, and to achieve common management and supervision of community conserved areas. While carrying out the construction of community conserved areas, the local community, through the support of local NGOs, acquires sustainable development knowledge, ideas and technologies through learning to develop ecological agriculture to increase villagers' income, improve livelihoods, and further promote community conserved areas and achieve sustainable regional development.
Now the multiple ecological functions of the Community conserved areas are now clear :
Water resource forests provide clean and safe drinking water for villagers.
The conservation of endangered plants such as Taxus yunnanensis in the forest area and endangered fish in the river, known as Gymnocypris firmspinatus
Forest are source of fertilizer, accumulating enough organic matter for community villagers to improve and regulate agricultural soils.
Forests are good safety barriers to avoid soil erosion, debris flow and other geological disasters.
Fuel forests provide resource storage for community's sustainable development.
Healthy river and scenic forests provide a good and clear environment for local tourism development.
The important premise in the process of constructing this ICCA was the consensus on the ecological protection from villagers in the community. Lisu minority's traditional production and life are friendly with nature and includes many traditional and cultural practices about how to respect and be harmony with nature. Their primitive religion is the worship of nature.
But in recent 30 years, state administration and market had seriously influenced Liguang village's ecology. The forest was divided and owned by individuals, which resulted in deforestation for money. Villagers began to plant tobacco which requires wood from local forest to be toasted. These are just two examples of the factors influencing the ecology of Liguang. Villagers also understand it is important to protect their hometown, but the process is not easy when the traditional authority and organization loses and villagers become atomized under the influence of modernization and market.
In light of this situation, the NGO, Lijiang Institute of Health and Environment, aiming at protecting ecology and community sustainable development, began to cooperate with Liguang villagers to promote and provide assitance. The activities include improving environmental protection awareness, learning new technology to reduce deforestation, and rebuilding their own governance. With the help of the NGO, coupled with their own motivation for change, they began to form the consensus through several community meetings during which they discussed and passed their community rules about CCAs. They felt they needed to reserve their beautiful hometown for their offspring. The CCAs will conserve resources, utilize sustainable methods for their production and life, and forbid commercial deforestation.
Villagers fully expressed themselves by having meetings to discuss and make regimes of forestry resource management or ecological protection, which doesn't interfere with production or living and is able to achieve the sustainable utilization and ecological protection. It involves the following aspects:
Delimit and ascertain the size of the conserved areas: establish areas with clear ecological function as identification such as forest for water resource conservation, fertilizer source forest, scenic forest, fuel forest (an organized way to use wood rationally according to their plan and life rhythm), and non-commercial forest.
Formulate relevant protection provisions: explain how to protect forest and utilize the resources (branches and leaves, pine leaves, mountain soil, etc.) within the conserved areas as specific as possible even including the concrete time to have the discussion.
Clear rewards and penalties: resolutely punish the acts in violation of the protection regulations. At the same time, enlarge the scale of the community supervision and reward the villagers who report these acts.
Elect managers in charge: the community holds the election to select the managers to undertake the responsibility. The managers are responsible for receiving reports on violations, organizing villagers to prevent vandalism, and reporting to the forestry department to deal with the violations according to law.
Lisu minority lives on planting, animal breeding and collecting wild fruits. They are not entirely dependent on the forest, but their production and life are related with their ecology and environment after hundreds of years' adaption. Most of their houses are built with wood from forest. Most villagers still use wood as the main fuel for cooking and heating. They develop their medicine by using herb plants and they utilize the leaves of the forest as fertilizers of their farms.