By  Jerome Lewis, Jessica Sweidan and Nathalie Joel-Smith from Synchronicity Earth.
On the 7th – 11th September 2019 a series of events took place in London, bringing together representatives from 17 different indigenous communities, encompassing  all four corners of the globe, to share wisdom, ideas and strategies for addressing contemporary environmental challenges.
By showcasing some of these wisdom traditions, the Flourishing Diversity Series (FDS) seeks to inspire appreciation and support within Western governments and the public for the vital role Indigenous people play in resisting ecological collapse.
Consisting of the Summit, Listening Sessions and a collective movement along the River Thames (the Gaia Spirit Movement), participants were invited to deepen their awareness and understanding of their role and responsibility in creating places where diversity can flourish.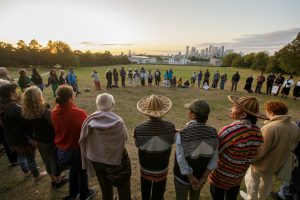 During the course of 5 days, Indigenous Leaders, including representatives from Brazil, Argentina, Colombia, New Zealand, Namibia, North America and India, shared their perspectives, stories and calls to action with hundreds of attendees.
Incorporating powerful speeches, ceremonies and collaborative workshops, the messages were unified and clear. An example of which, came from Eunice Kerexu, leader of the Morro dos Cavalos Indigenous Land in Santa Catarina state, Brazil. Eunice is part of the Guarani Yvyrupa Commission (CGY) coordination and is one of the main female leaders of the National Articulation of the Indigenous Peoples in Brazil (APIB) – the biggest national indigenous movement.
"This is not a time for remorse and anger. This is a global issue and it depends on all of us. We invite you to reforest your hearts and minds. To reconnect with life. There is no time better for this, than this difficult period we are in, where we have nowhere else to go, and if we continue in this way, the planet will be destroyed. Go back to your roots, back to source, and be reborn again. Help us enforce our rights internationally. Speak out against the extermination of the indigenous peoples and lands."
80% of our planet's remaining biodiversity coincides with an estimated 65% of the world that is under some form of indigenous or local community governance/management. Research now proves that Indigenous people are better custodians of forests than governments.
We know that when indigenous peoples are able to remain on their territories and practice their traditional ways of life, biodiversity flourishes. In fact, all diversity flourishes, be this culture, languages, cultivated and wild species, or the networks and interactions between different species (including humans) and the environments within which they dwell.
And yet, these territories and the diversity of life they support are threatened across the world by agroindustry, extraction, infrastructure development, and even certain types of conservation which exclude local communities and indigenous peoples.
At a larger scale, these threats are driven by a flawed economic system, which pushes for endless growth and consumption, and is driving us towards ecological crisis and the 6th Great Extinction.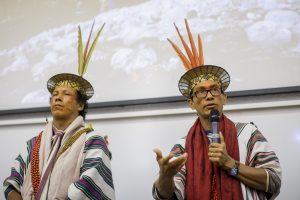 We live in a time where the very systems put in place to ensure comfort and predictability for humanity now threaten our demise. As we've heard from so many young people in recent months, now more than ever, it is time to act. Yet severe ecological uncertainty can often leave ordinary people feeling overwhelmed by the scale of the problem – resulting in fatalism and inertia.
The Flourishing Diversity Series aims to reverse this disengagement by identifying, encouraging and supporting a diversity of locally based practices that anyone can take up, to regenerate species diversity and heal ecosystems, while cultivating hope amongst all people and engendering resistance to damaging agricultural and industrial practices.
Many Indigenous and small-scale communities already do this, and some – the wisdom traditions – do so in exemplary ways. Research consistently finds that Indigenous peoples simply do a better job of taking care of the biodiversity on their land (Schuster, 2019).
Let us consider and collaborate with wisdom traditions at a global-scale, as together we make our voices louder and our actions stronger.
By appealing to what it fundamentally means to be human, Flourishing Diversity offers a collective response to restoring our planet that unifies cultures across the globe, seeking to focus peoples' minds on what they can do, instead of what they can't.
Encouraging incremental, personalised actions supporting diversity will ultimately create a global flourishing of diversity that will be rewarding and inspiring.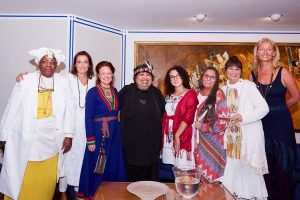 FDS hopes to play a fundamental role in helping shift humanity's impact on the Earth by advocating three interconnected actions:
To legally recognise and protect indigenous territories of life from extractive industry, large infrastructure development and industrial agriculture.
To vigorously resist resource exploitation and consumption patterns that threaten diversity.
To encourage all to become part of the solution by taking responsibility for the spaces we have influence over and creating places where diversity can flourish.
To read the FDS report, 'Flourishing Diversity: Learning from Indigenous Wisdom Traditions' and view the Listening sessions that took place, visit www.flourishingdiversity.com. We also invite you to read Gaia's foundation article on the series of events that took place in Sept 2019 : Flourishing Diversity Series (I) : A Celebration of Indigenous Wisdom in the Heart of London.
Pictures : © Flourishing Diversity.
Featured image : Eunice Kerexu, leader of the Morro dos Cavalos Indigenous Land in Santa Catarina state, Brazil.