First published on 12/20/2019, and last updated on 01/28/2020
By Diana San Jose, Program Officer at NTFP-EP Asia, and Gaby Alegre, working in advocacy and communications for NTFP-EP Philippines. NTFP-EP is a Member of the ICCA Consortium.
The first Philippine ICCA Youth Camp, organized by Non-Timber Forest Products – Exchange Programme (NTFP-EP) Philippines, was held in Imugan, Santa Fe, Nueva Vizcaya from December 10-13, 2019.
The youth camp, which bore the theme "ICCA at Ako: Kabataan Para sa Kalikasan at Kinabukasan" (in Tagalog: ICCA and I: Youth for the Environment and Future), brought together 22 youth leaders from 11 provinces, representing 12 different indigenous peoples' organizations and indigenous cultural communities-Buhid Mangyan, Dumagat-Remontado, Higaunon, Talaandig, Bukidnon, Manobo, Ituman Magahat, Tagbanua, Pala'wan, Obu Manovu, and Ikalahan/Kalanguya. All together, they represented 5 different landscapes of the Philippine archipelago – the Southern Sierra Madre Mountain range, Mindoro, Southern Palawan, Negros Occidental and Mindanao.
The inter-generational learning and the diversity of the composition of the youth delegation led to a rich and lively sharing of experiences. It was the first time for the ICCA youth representatives to gather together to deepen their understanding and knowledge of the different territories of life on a national level. The delegation had much to learn from and share with one another especially in the aspect of documenting ICCAs, as they are at different levels of work in their respective ICCA journeys.
The youth camp facilitated exchange of perspectives and insights, and spurred plans on youth participation in the promotion of ICCAs in the country through group discussions, dialogues and structured learning exercises. The learning exchange took place in Kalahan Educational Foundation (KEF), amidst the landscape of the Ikalahan/Kalanguya ICCA and ancestral domain.
The experience of the Ikalahan/Kalanguya in documenting and protecting their ICCA was shared by Mr. Sam Balinhawang, KEF Executive Director. The Ikalahan/Kalanguya ICCA in Santa Fe, Nueva Vizcaya is one of pioneer indigenous cultural communities in the Philippines working on forest management and sustainable livelihoods, and have long protected their territory against extractives.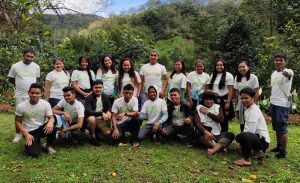 Topics discussed included sharing of cases on ICCAs in the Philippines and in other countries, ecological principles and traditional ecological knowledge, and a review of indigenous rights and relevant national policies, laws and international conventions affecting ICCAs. The youth also learned practical tools for documenting ICCAs through a hands-on field exposure where they conducted a transect walk and established a sample carbon plot in preparation for ICCA resource inventory.
A scanning of their current situation and ongoing actions related to ICCAs also took place. The youth identified current challenges or threats to their ICCAs, which included logging, mining, coal, oil palm plantations, territorial divisions/boundary disputes, land encroachment, increased militarization, and aggressive industrialization.
Moreover, the youth participants shared their experiences of youth-led initiatives in advocating for ICCAs, from information and education campaigns, capacity development and skills building activities, to youth organizational development, organizing, and forest walks, rainforestation (forest restoration through nurseries and planting of indigenous species).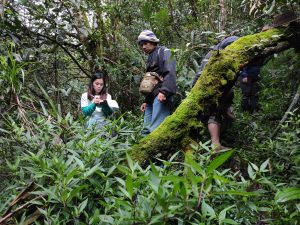 The camp highlighted the traditional ecological knowledge (TEK) of the youth, and their key role in championing resource management, protection, promotion, and recognition of ICCAs. They particularly expressed interest in advocating for the lobbying of the proposed ICCA Law in Philippine Congress, which seeks to add a layer of protection to territories of life.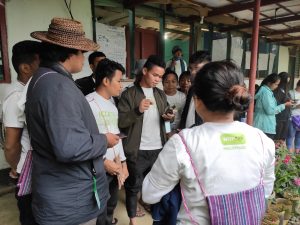 It is hoped that future action and collaboration will spring from this group, led by the newly formed Philippine ICCA Youth Working Group, in building bridges with more indigenous youth in the country.
Pictures : © NTFP-EP Philippines / Gaby Alegre.