The 17th General Assembly of the ICCA Consortium will be convened virtually from 8-10 June 2021 from 12:00-14:30 UTC each day, with additional dates (11-12 June 2021) for online social events.
The Assembly will be conducted on Zoom with simultaneous interpretation in English, Spanish, and French. Participants are kindly requested to register using the link provided to all Members and Honorary members via email. If you have not received this email, please contact our Administration Assistant (alison [at] iccaconsortium.org]. 
Please pay special attention when registering to name yourself as follows:
If you are representing a MEMBER ORGANIZATION, write "M – [organization name] – [your first name]" in the first name field.

If you are an HONORARY MEMBER, write "HM -" before your first name.

If you fall into a different category, please write that in front of your first name, such as "Observer – [your first name]" or "Interpreter FR<>EN – [your first name]"

If your affiliation is not clear in your registration request, we might contact you for further information before approving your registration.
More information will be posted here soon about the agenda, preparatory meeting announcements, and calls to action ahead of the General Assembly.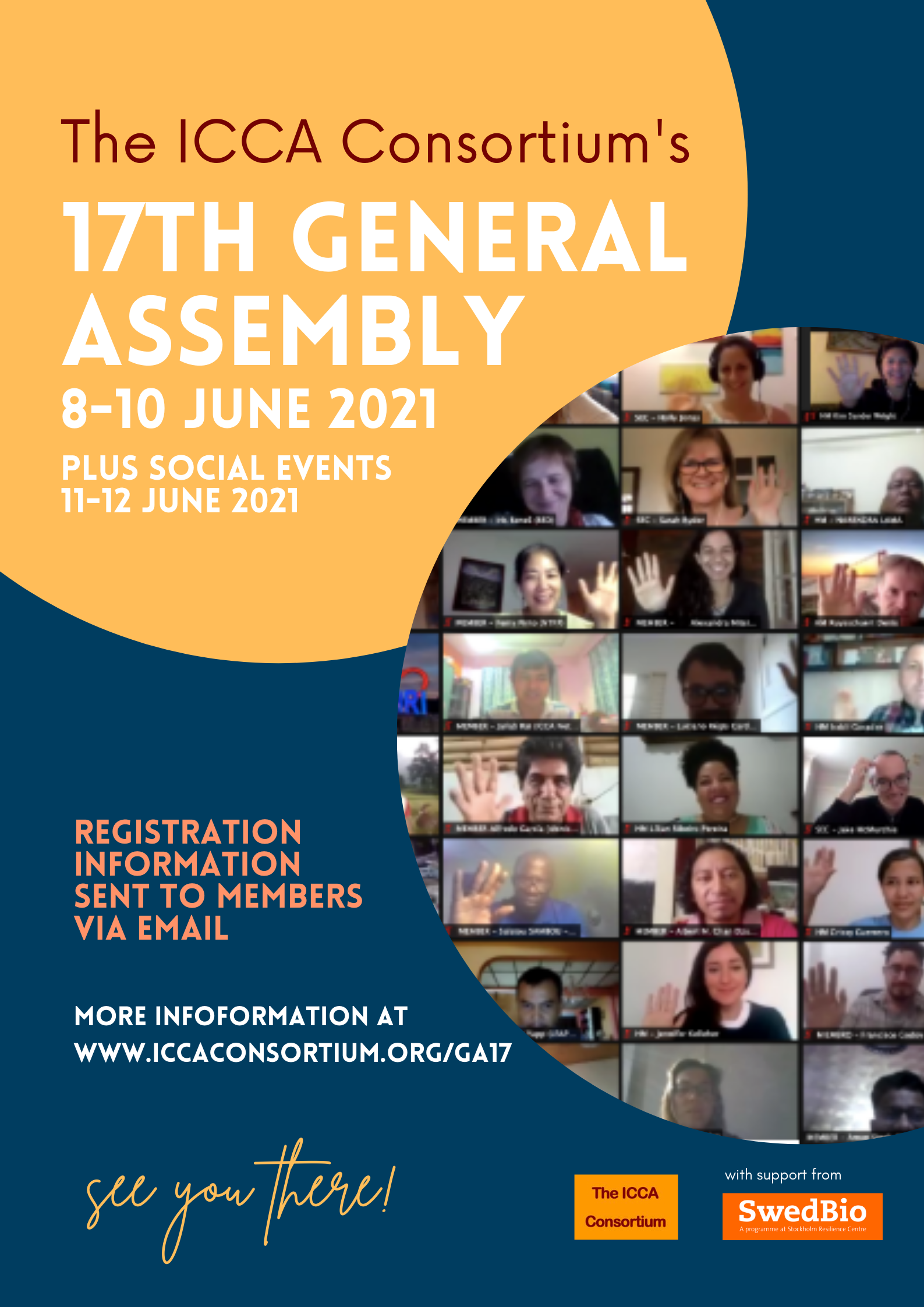 Special call for Council nominations
As the draft Governance Procedures (which will be tabled for approval during the 17th GA and will in part replace the Operational Guidelines) contain several changes to the composition of the Council, the current Council decided that nominations will only be sought for two positions: Vice President (a new role approved in the Statutes at the 16th General Assembly) and Secretary. 
Nominations for the vacant positions are open and you are warmly encouraged to submit nominations to the Programme Manager as soon as possible. The General Assembly normally elects or reconfirms the members of the Council every three years. No member can serve in the same position for more than three consecutive terms. Nominations can be made by a minimum of two existing Consortium Members in good standing and/ or two members of the existing Council and/or a Member in good standing and a member of the Council. A formal communication should be made to the Consortium's Programme Manager by 25 May 2021 (at least two weeks before the foreseen date of the General Assembly) and should be accompanied by a brief CV of the proposed individual (maximum 1500 characters, including spaces) stressing ICCA-related experience and commitment, and a communication of the nominee's acceptance to serve. Kindly find more information in the relevant section of our current Operational Guidelines. Please find the Terms of Reference for Vice-President here and the Secretary of Council here.
Women and members of Indigenous peoples and local communities are particularly encouraged to accept nominations.