First published on 05/10/2019, and last updated on 05/22/2020
Pluriverse : A Post-Development Dictionary, Edited by Ashish Kothari, Arturo Escobar and Federico Demaria,  Alberto Acosta and Ariel Salleh. Tulika Books, New Delhi in association with AuthorsUpFront, 384 pages, May 2019.
Several ICCA Consortium Member representatives and Honorary members participated in the elaboration of this volume, namely: Ashish Kothari, Arturo Escobar, Federico Demaria, Emily Caruso (GDF – Global Diversity Foundation), José María Gualinga (Pueblo originario Kichwa de Sarayaku), Gary Martin (GDF – Global Diversity Foundation), David Barkin, Daniela Del Bene, Pablo Dominguez, Sutej Hugu (TICTU – Taiwan Indigenous Conserved Territories Union), Joan Martinez Alier. Grazia Borrini-Feyerabend, ICCA Consortium Global Coordinator, and Taghi Farvar, ex-President of the ICCA Consortium wrote a chapter specifically on ICCAs-territories of life, that the authors kindly shared with us here.
Pluriverse: A Post-Development Dictionary is a stimulating collection of over 100 essays on transformative alternatives to the currently dominant processes of globalized development, including its structural roots in modernity, capitalism, state domination, and masculinist values.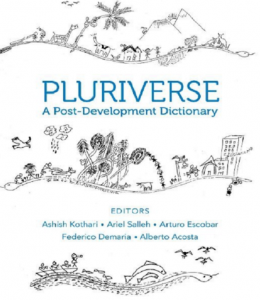 In the post-development imagination, 'development' would no longer be the organizing principle of social life. The book presents worldviews and practices from around the world in a collective search for an ecologically wise and socially just world. It also offers critical essays on a number of false solutions that those in power are proposing in an attempt to 'greenwash' development. The 120+ contributors to the volume include activists, academics, and practitioners, with a wealth of experience in their respective fields of engagement.
To purchase the book in the US
For worldwide purchase, you may also contact info@authorsupfront.com
Featured image: Editors of Pluriverse © Radical Ecological Democracy