By Pooven Moodley, ICCA Consortium Council co-chair of the Theme on "Defending Territories of Life"
and representative of Natural Justice, Member of ICCA Consortium. 
In August 2019, a global meeting took place in Mpumalanga, South Africa, to strengthen the connections within a cross-cultural group of interdisciplinary experts, activists, indigenous leaders and spiritual guardians of sacred natural sites in response to the current planetary crisis and to foster the protection of our sacred natural sites to ensure the restoration of Earth's ecosystems and biodiversity. The meeting was co-hosted by OneAncientFuture, Le Ciel Foundation and Global White Lion Protection Trust.
Natural Justice were honoured to be invited to take part in this meeting and contribute their energy and experience to the one-of-a-kind meeting.
A central theme of the meeting was the fact that the planetary crisis is the result of pervasive damage to the interconnected system on the planet, as articulated by a growing and widespread consensus of scientific authorities, governmental and non-governmental institutions, and indigenous wisdom keepers. This knowledge is supported by the growing frequency and intensity of climatic events (e.g. severe heatwaves, storms, droughts, wildfires) alongside the deterioration of Earth's life-support systems (e.g. habitat destruction, widespread pollution, biodiversity extinctions) as indicators of signalling systemic collapse.
Sacred natural sites fulfill vital and varied roles in supporting the health of the whole organism that is the Earth and carry the original templates for the continuity of life. These sites are often inextricably linked to sacred, prophetic and totemic species directly associated with the site and/or endemic to the region. They may be natural places – whether mountains, wetlands, lakes, forests, source waters, oceans, rivers, estuaries, waterfalls, special old trees, caves, soils (surface and subterranean) or open plains – and are often areas of high biodiversity, thus home to diverse and flourishing lifeforms.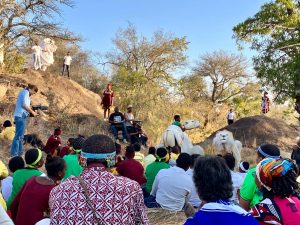 Sacred natural sites are at great risk of being desecrated, which is unfortunately happening all across the world. Those at the meeting agreed that what is required for protecting sacred natural sites is a dedicated and uncompromising ecocentric approach to nature, that restores humanity's right-relationship with nature, thereby shifting the current extractive and destructive paradigm towards one which upholds respect and reverence for the health and flourishing of life on the planet. These sites represent the vital organs of Earth and are interconnected; protecting sacred natural sites thus ensures the flourishing of the ecologically sustainable web of life across the planet. The approach requires fostering ecological sustainability and revival, and integrates core indigenous and traditional knowledge systems with contemporary science, in service of nature.
International precedent exists where nature and natural elements have been given constitutional rights, including the right to exist, to restoration, to the regeneration of its natural cycles, and to the conservation of its ecological structure and functions. There was a call for the protection of indigenous communities, especially those under threat, environmental defenders and spiritual guardians of sacred sites. Where there are development initiatives such as mining, agriculture, housing, tourism, conservation and infrastructure development, free, prior and informed consent is a fundamental requirement from indigenous communities, especially where sacred natural sites exist.
The Alliance for the Sacred Sites of Earth Gaia (ASSEGAIA) was launched during the meeting. The Alliance will work with other key organisations and groups working on the protection of sacred natural sites.
Pictures : © Linda Tucker .