The ICCA Consortium is pleased to share a fully revised and mobile-friendly version of the self-strengthening guidance for Indigenous peoples and communities available in five languages
By Grazia Borrini-Feyerabend (member of the Council of Elders), Jessica Campese (Honorary member), and Thomas Niederberger (Research and Publications Coordinator)
---
The ICCA Consortium is delighted to share the new online (mobile-friendly) and PDF versions of Strengthening your territory of life: Guidance from communities for communities. This is a fully revised and simplified version of "Self-Strengthening ICCAs," a guidance document used in various iterations and in three languages between 2010-2020.
Translations are available in French, Mandarin, Spanish, and Russian.
This earlier version accompanied and was strengthened by the experience of Indigenous peoples and communities in Africa, Asia, and Latin America as they enhanced awareness of their territories of life and carried out initiatives with the support of the UNDP Global Environment Facility (GEF) Small Grants Programme (SGP), among others. We gathered lessons learned by these communities, enriched the guidance, and further reviewed and refined it with Members and Honorary members at the ICCA Consortium's XVth General Assembly in Udaipur.
This revised guidance is intended for Indigenous peoples and communities who wish to reflect on their own situation and identify their needs and priorities – as a single community or in association with others – to strengthen their territories of life on their own terms. If, through this process, they identify a specific initiative as a priority, they will have a strong basis for designing a proposal or request for external support such as funding (whether through GEF SGP or otherwise) that is necessarily part of the community's broader self-determined strategy and plans. This guidance should never be used only for the purposes of fundraising or developing projects or to fulfil donor requirements.
We recognize the immense cultural diversity of communities around the world and of the diversity of the contexts in which they live. That is why the guidance is not prescriptive. Rather, it offers questions, ideas, resources, tools, and examples of what other communities have done through brief descriptions, photos, and videos. If electricity or internet connectivity inhibits the use of the mobile-friendly version, the pdf version can be downloaded and printed as needed. A team of community volunteers might start with familiarizing themselves with the structure and content of the guidance. They can then select the elements of the guidance most useful to them and, as needed, modify, and apply questions and tools to facilitate a few 'grassroots discussions' in culturally meaningful settings. The facilitated grassroots discussions can help develop common awareness and greater clarity regarding the situation of their territory of life and what is needed to strengthen and support it on the community's terms. From there on, the community will hopefully be better equipped to plan, communicate, advocate, and act in diverse ways— with or without the support of other communities and willing partners (such as GEF SGP).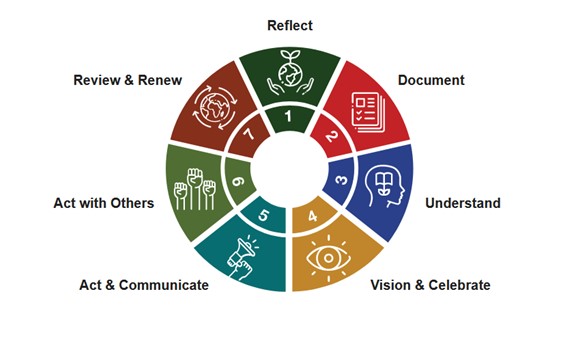 We would like to stress two points. The first is that the revised guidance includes an element dedicated to celebrating the territory of life and the commitment of the community to govern and manage it, which was not in the prior version. We believe it enriches the guidance considerably: celebrations generate a sense of solidarity, pride, and new energy for the common good!
The second is that the guidance accompanies a process that may start in a single community but will hopefully expand to many communities and territories of life in a region or country. This is, in fact, one of the ideas that grounds the initiative and makes it meaningful specifically for the ICCA Consortium. Each community can do wonders to self-strengthen and govern their territory of life with little to no external support… but in our interconnected world, there is always a time when a community needs others, or they are called on by other communities, to accompany and strengthen each other with mutual support, to advocate together for appropriate policy or legal recognition, to prevent the imposition of unwanted and destructive industries and more. The ICCA Consortium promotes such cooperation, peer learning and support and solidarity at all levels, and we are delighted that this guidance is available for our membership, Council and Secretariat to use together!
The English version of the guidance can be accessed here: Strengthening your territory of life.  Translations are available in French, Mandarin, Spanish, and Russian. Versions in Portuguese, Farsi, Swahili, and Hindi will be available in the coming months. Please write to documenting [at] iccaconsortium [dot] org and your Regional Coordinator if you would like to help translate it to other languages, plan to use it in your community, or have any comments or suggested improvements! We plan to hold online peer learning workshops in the coming months. The guidance is a work in progress and needs your experience, wisdom, and ideas to continue this journey of shared learning and to further improve the next version. We look forward to hearing from you!
Featured image courtesy by KESAN