The publication "Celebrating Territories of Life in Southeast Asia" by the ICCA Consortium features stories of Indigenous Peoples' and local communities' territories of life. It highlights the region's traditional knowledge and governance systems and sustainable livelihood practices
Written by Diana San Jose, Tanya Conlu, and Amy Maling (NTFP-EP, ICCA Consortium Member, and host of the Southeast Asia regional coordination team)
---
A new report by the ICCA Consortium Southeast Asia featuring stories of Indigenous Peoples' and local communities' territories of life from the region is now available online. It is the first regional report of its kind.
The publication "Celebrating Territories of Life in Southeast Asia" invites readers to discover the situation, context, contributions, and values of Indigenous and local community-conserved territories of life through the extensive and grounded experiences of the Members of the ICCA Consortium in Southeast Asia.
In the report, Indigenous and local voices from Cambodia, Indonesia, Malaysia, Myanmar, the Philippines, and Vietnam illustrate how communities document, defend, and sustain their territories. All the case stories are written from the perspective of Indigenous Peoples and local community members.
Read the report here (PDF file) to learn about the effective and robust Indigenous and traditional governance systems that conserve nature, strengthen cultures, and sustain biodiversity.
The report is a celebration and a call to action. It is a celebration of all the efforts to protect territories of life against all odds. It is an invitation to support many communities still in conflict and struggling for their land, peace, and life.
In Southeast Asia, Indigenous Peoples and local communities' ICCAs – territories of life have been thriving for generations — and, since the last decade — many organizations have taken many new initiatives to document, sustain, and defend these territories of life.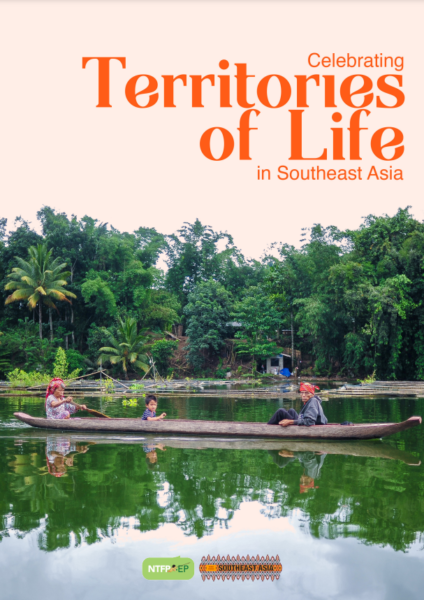 Chapters in the report are dedicated to discussing ongoing threats facing territories of life in Southeast Asia, the struggles for recognizing their traditional tenure, and challenges around the intergenerational transfer of knowledge. The report also discusses gaps in research, policy, and interventions, along with recommendations and insights toward a more enabling environment for Indigenous peoples and local communities who govern and manage these territories of life.
Stories highlight how traditional governance systems, sustainable livelihood practices, and Indigenous knowledge contribute to achieving global conservation targets. It makes the case that ICCAs–territories of life are vital for conserving the planet's remaining bio-cultural diversity. Whether officially recognized or not, numerous territories of life in the region governed by Indigenous Peoples and local communities remain strongholds of the last remaining forests and marine ecosystems.
While the cases presented in the report are only a handful of examples from the region that is home to many diverse territories of life, it offers a glimpse of the breadth of experiences and examples that can be modeled and learned by others. The publication contributes to the evidence base on the effectiveness of community-led conservation and the critical role that Indigenous Peoples and local communities play in local-to-global conservation initiatives that protect the bio-cultural diversity of our planet.
In Video
The video accompanying the report features five stories of Indigenous peoples documenting, defending, and sustaining territories of life across Southeast Asia. Video by ICCA Consortium Southeast Asia/ NTFP-EP
Watch the documentary about territories of life in Alas Mertajati, Danau Tamblingan, Bali (Indonesia), Chu Lin Forest (Vietnam), Kg. Alutok, Ulu Tomani Tenom, Kg. Terian Penampang, Kg. Kiau Kota Belud, Kg. Sungai Eloi Pitas, Kg. Mengkawagu Tongod, Kg. Tiong Temburong Tuaran, Sabah (Malaysia), Ikalahan, Nueva Vizcaya and Sote, Surigao del Sur (Philippines), and Karen communities (Myanmar).
Note to media outlets and journalists
Editors of the report, authors of the case stories, and related Indigenous and local leaders are available for interviews and other media opportunities.
Contact:
Amy Maling
Regional Coordinator for Southeast Asia (on behalf of NTFP-EP)
ICCA Consortium
Email: amy.maling [at] @ntfp [dot] org
About Territories of Life
Territories of life, also known in some contexts as ICCAs, are territories and areas conserved by Indigenous peoples and local communities. They are as diverse as the peoples and communities who shape and sustain them through their unique cultures, governance systems, and practices.
About the ICCA Consortium
The ICCA Consortium is a global association of grassroots and non-profit organizations and Individual honorary members belonging to and supporting Indigenous peoples and local communities and the movements for their collective rights, justice, and equity in conservation.
The ICCA Southeast Asia Consortium works towards the vision of a vibrant and inclusive network of Indigenous peoples, local communities, and NGOs working in partnership to uplift and affirm the validity and viability of ICCA/Territories of Life in Southeast Asia.
LEARN MORE