Three key themes emerged from this session co-organised by ICCA Consortium Member Natural Justice during the International Land Coalition's Africa Land Forum 2021
Shared by Natural Justice (ICCA Consortium Member)
During the International Land Coalition's Africa Land Forum, which was held online from 26-28 October 2021, Natural Justice co-organised a session on the "Protection of African Land and Environmental Defenders" with Aide et Action pour la Paix.
Moderated by Cristina Timponi Cambiaghi (International Land Coalition), the session featured three panellists:
Milka Chepkorir (Sengwer), ICCA Consortium Coordinator of Defending Territories of Life, and a frontline environmental defender who works with local communities and grassroots organisations in Kenya and elsewhere;
Pigeon Kambale, Professor of Public International Law and Dean of the Faculty of Law at the University of Goma in the Democratic Republic of the Congo; and
Ed O'Donovan, Special Advisor to Mary Lawlor, United Nations Special Rapporteur on the situation of human rights defenders.
Three key themes emerged from the panellists' respective perspective and the ensuing discussion:
The current definition of a "defender" needs to be expanded. Many individuals who engage in this type of work do not identify themselves as environmental defenders, either because they do not realise that they qualify under the definition, or due to the stigmatisation many defenders face. Expanding the definition of defender to be more inclusive of different people and greater identification of defenders is needed on the ground, and at the broader African level.
Defending the land and environment occurs on all levels – local, regional and international. For many defenders working at the grassroots level, the circumstances can be extremely dangerous. There needs to be more engagement, awareness and protection mechanisms in place for environmental defenders.
In the pursuit of protecting the human rights of defenders, there are many strategies available to defenders, although taking legal action is the most often used. Other strategies need to be engaged and may include campaigns through networks of support, applying for urgent funding, reporting violations to the UN Special Rapporteur on human rights defenders, and advocating for legislative changes at the domestic and regional (African Union) levels.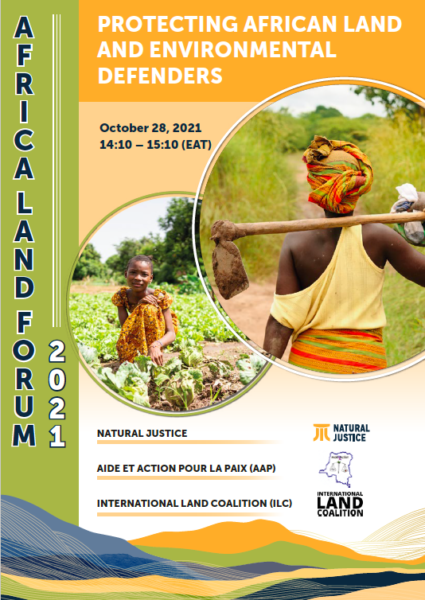 Note: The ICCA Consortium is a member of the International Land Coalition and a partner in the African Environmental Defenders Emergency Fund.
Read more