First published on 01/25/2019, and last updated on 02/26/2019
A workshop focusing on the whats and hows of "inclusive conservation" was hosted by WWF Indonesia and convened by WWF International's Governance Practice and the ICCA Consortium in Denpasar (Bali, Indonesia) on 21-23 January 2019. Under the leadership of the director of the Governance Practice – Delfin Ganapin – WWF has brought together potential partners to collectively define and operationalize an initiative of inclusive conservation "led by" indigenous peoples and local communities. The initiative, meant to address policy and practice at various levels, is currently being presented for support within WWF under the 'People Protecting Land- and Seascapes' (PPLS) main framework.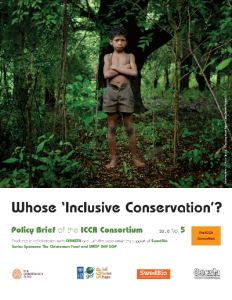 The process to develop this initiative started in 2018, when the ICCA Consortium and WWF collaborated in hosting discussions at UNPFII in New York and at CBD SBSTTA in Montreal. Based on such discussions and more, the ICCA Consortium has developed the Policy Brief no. 5 on inclusive conservation, available now in English and Spanish.
The workshop in Bali gathered a diverse group of over 40 participants from around the world to ensure the co-development of the initiative. The ICCA Consortium was present with Ghanimat Azhdari (CENESTA, Iran) and Aman Singh (KRAPAVIS, India)— members of the Consortium Council; Thomas Moore, member of the Council of Elders; representatives of our Members KESAN (Burma), Tafo Mihaavo (Madagascar), UCRT (Tanzania) and WGII (Indonesia); several Honorary members; and Holly Jonas and myself for the global secretariat.   Wrays Perez Ramirez (Wampis Nation and Member of Council) was also expected to participate but an emergency prevented him at the last moment. WWF country and thematic experts and representatives of UNDP GEF SGP, World Resources Institute and UN Environment WCMC also took part in the gathering. The workshop discussed various elements of a vision of the initiative to be developed and some pathways and processes to achieve it, which have been further refined via numerous ZOOM meetings during the following weeks. The concept for a proposal has just been submitted within WWF and we hope to hear soon that it will be moving to a further stage (an actual project proposal).
What can the Consortium hope to achieve with this collaboration with WWF? First and foremost, we would like to stress that this is not a broad "partnership" in the making, but an initiative by which the Consortium has agreed to collaborate on a country-by-country basis or on an initiative-basis. Our aim, which is now also embraced by WWF, is to enhance the governance security of custodian indigenous peoples and local communities (IPLCs) to their territories of life. Governance security (and vitality!) means that custodian IPLCs are capable and willing to exercise long term, wise governance, responding to changing contexts in timely and appropriate ways. It means that the custodian IPLCs can take the decisions necessary to sustain their territories of life and their own livelihoods and wellbeing. That such decisions are well-informed and meaningful. That they are timely implemented.  And that they are respected and not overpowered by other actors in society. In short, the custodian IPLCs can exercise their sustainable self-determination.
As we all know, sustainable self-determination depends on the custodians' capacities and—critically— on a variety of ecological, political, cultural and socio-economic conditions. Among those, security of collective rights to the territory at stake is one of the most powerful, although not absolutely necessary nor the only condition at stake.  With focus on the countries where our Consortium Members are ready and willing to collaborate with WWF, we have recommended that WWF and the Consortium collaborate in national networks to develop a "critical mass" of actors and institutions in support of security of collective rights and/or whatever other policy achievement is needed, according to a collective analysis of country conditions.  We have also recommended that processes of ICCA self-strengthening (from self-awareness to high level impact) are supported focusing on emblematic ICCAs—territories of life.  In all such cases, the key actors involved will be the Consortium Members in the country and national WWF Offices.  At regional and international levels, we have also recommended that the global secretariats of the Consortium and WWF collaborate to make lessons learned available for meaningful facilitation and support.  The idea of a global Academy on Inclusive Conservation has been ventilated.
In some national context, such as Indonesia and Burma, WWF offices and ICCA Members have already demonstrated that collaboration is possible and mutually beneficial, and those countries and others that are ready to collaborate—such as Tanzania, DRC Peru and India – may be the first with "feet on the ground" for the forthcoming initiative.  It is expected, however, that many more countries will be embraced in the years to come.  Let me stress again that strategic initiatives would need to be planned in each country, starting from identifying where "territories of life" are in each country, how they are faring, and how best they could/should be recognised and supported.   The Consortium global secretariat is willing and ready to support mutual learning at regional and international levels, and to provide technical advice for international monitoring of territories of life and to keep enhancing their relevant policy contexts.
Photo credits: Grazia Borrini-Feyerabend