Youth for Territories of Life, the youth group of the ICCA Consortium, organized a session titled "Defending Territories of Life: Experiences and Strategies of Young Frontline Defenders" at the recent IUCN Global Youth Summit. This blog is a recap of the discussions from the session
First published on 05/22/2021, and last updated on 07/01/2021
Youth for Territories of Life, the ICCA Consortium's Youth Group, took the recent virtual IUCN Global Youth Summit as an opportunity to host young custodians of territories of life to share the stories, challenges, and opportunities they face in their work. The session titled "Defending Territories of Life: Experiences and Strategies of Young Frontline Defenders," organized by the Youth Group on 8 April 2021, brought together defenders of territories of life from all over the world. It was a space for intergenerational exchange between young defenders, elders, and supporters to find wisdom, strategies, and advice for sustaining the peoples' movement.
As moderators of the session, on behalf of the organizers and participants, we are happy to share this recap of the discussions. Four speakers addressed the session:
·        Milka Chepkorir, a member of the Sengwer Indigenous peoples from Kenya and Coordinator, Defending Territories of Life of the ICCA Consortium;
·        Lucas Quintupuray, a young Mapuche leader, a member of the ICCA Consortium Council, and Co-chair of Youth for Territories of Life;
·        Alma Sinumlag, a cultural activist with Dap-ayan ti Kultura iti Kordilyera (DKK) and an Indigenous peoples' rights defender from the Butbut tribe of Kalinga, Philippines; and
·        Jill Cariño, an Ibaloy from the Philippines, a veteran Indigenous peoples' rights activist, and Executive Director of the Philippine Task Force for Indigenous Peoples Rights (TFIP).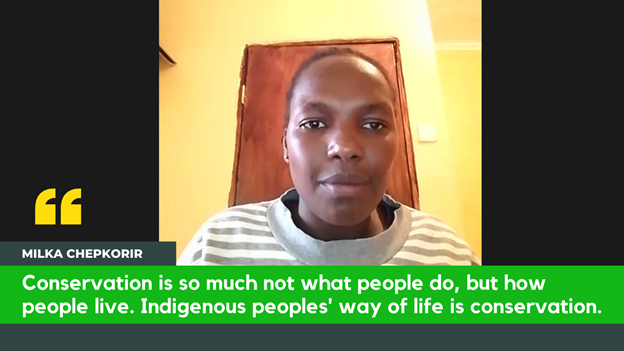 Milka Chepkorir discussed how fortress conservation forced evictions of Indigenous peoples in Kenya, including her community, from their ancestral lands. Fortress conservation is a significant driver of cultural loss due to separation of communities, forced assimilation, and trauma. Fortress conservation is also responsible for the loss of lives of the elders who hold much of the Indigenous knowledge.
She said that there is a growing gap between Indigenous elders and youths. This intergenerational gap is one of the challenges faced by many young Indigenous land defenders. The factors behind such gaps are two-pronged, she said.
On the one hand, the need and desire to leave the community for employment and education in the cities drive many Indigenous youths away, and colonial education systems teach them that the Indigenous way of life is not socially acceptable. On the other hand, communities do not take many Indigenous young defenders seriously because they are young and not Indigenous enough.
Milka said that communities should not ask Indigenous youths to prove their indigeneity through credentials. Instead, communities should accept the young members for who they are and let them join the struggle to defend their territories. She said her community is working to bridge this intergenerational gap. One of the ways to do it is through Indigenous-led education programs to which the youth contribute actively.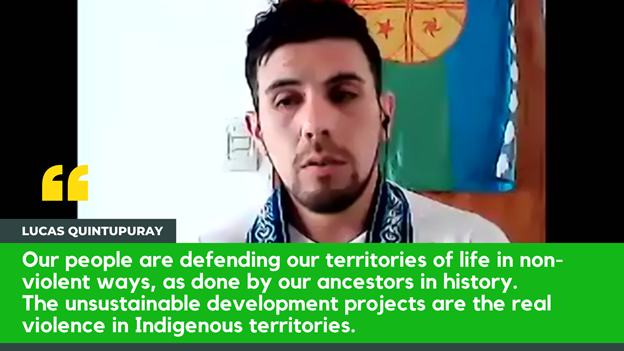 Lucas Quintupuray said Indigenous culture is one of the fundamental pillars in defense of territories of life, and communities need to work with the youth to recover Indigenous culture. Lucas shared the violent history of oppression, dispossession, and the genocide that the Mapuche community, under the colonial regime, had experienced. "When we know where we come from, we know where to go," he said.
With the elders, Lucas is leading multigenerational efforts to do that. They are centering their efforts on knowing the Indigenous history and working to recover the language, cosmo-vision, and the sense of community represented under their flag. Speaking of their connection with land, lakes, and biodiversity, he said that Mapuche means 'people of the land' and that their surnames are related to nature.
The comprehensive understanding of this threatened cosmo-vision and "knowing that we are part of the land" is essential to their struggle to defend territory and identity. "Teaching this to Mapuche youth, and even to other non-Mapuche youth to generate empathy, is what will strengthen the movement," he said. Lucas concluded his speech with the words of the famous Mapuche leader Kalfukura, who said, "I will come back and speak up through my grandchildren" while being murdered.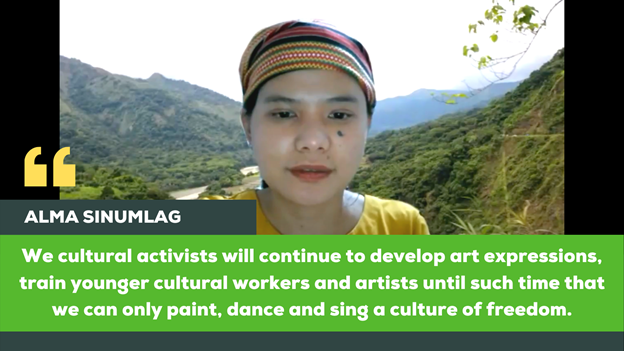 Alma Sinumlag began her contribution by sharing that for Indigenous peoples, "land is life." Indigenous communities are intricately related to the mountains, rivers, and rice fields. In Indigenous territories, the land is the source of their survival, faith systems, social values, songs, dances, stories, governance practices, and their history as peoples. 
This condition, she said, is why the youth are taught the duty to protect and nurture ancestral lands. She also discussed how Indigenous peoples in their region faced the aggression and violence of development since colonization. Corporations and governments imposed many projects on them that were detrimental to their survival, such as large-scale mining, dams, and massive logging. She lamented that Indigenous peoples are too often seen as expendable by governments and businesses to make development happen that undermines their rights. 
Alma also shared her experience as a cultural worker in Cordillera, Philippines. Art forms such as songs, dances, murals, and theatre, rooted in their rich culture, have been an integral part of community life and have evolved through time to reflect the situation of their people. Such art forms have been critical ways to express dissent against oppression and to defend their territories and right to self-determination. "We cultural activists will continue to develop artistic expressions, train younger cultural workers and artists until such time that we can only paint, dance, and sing a culture of freedom," she concluded.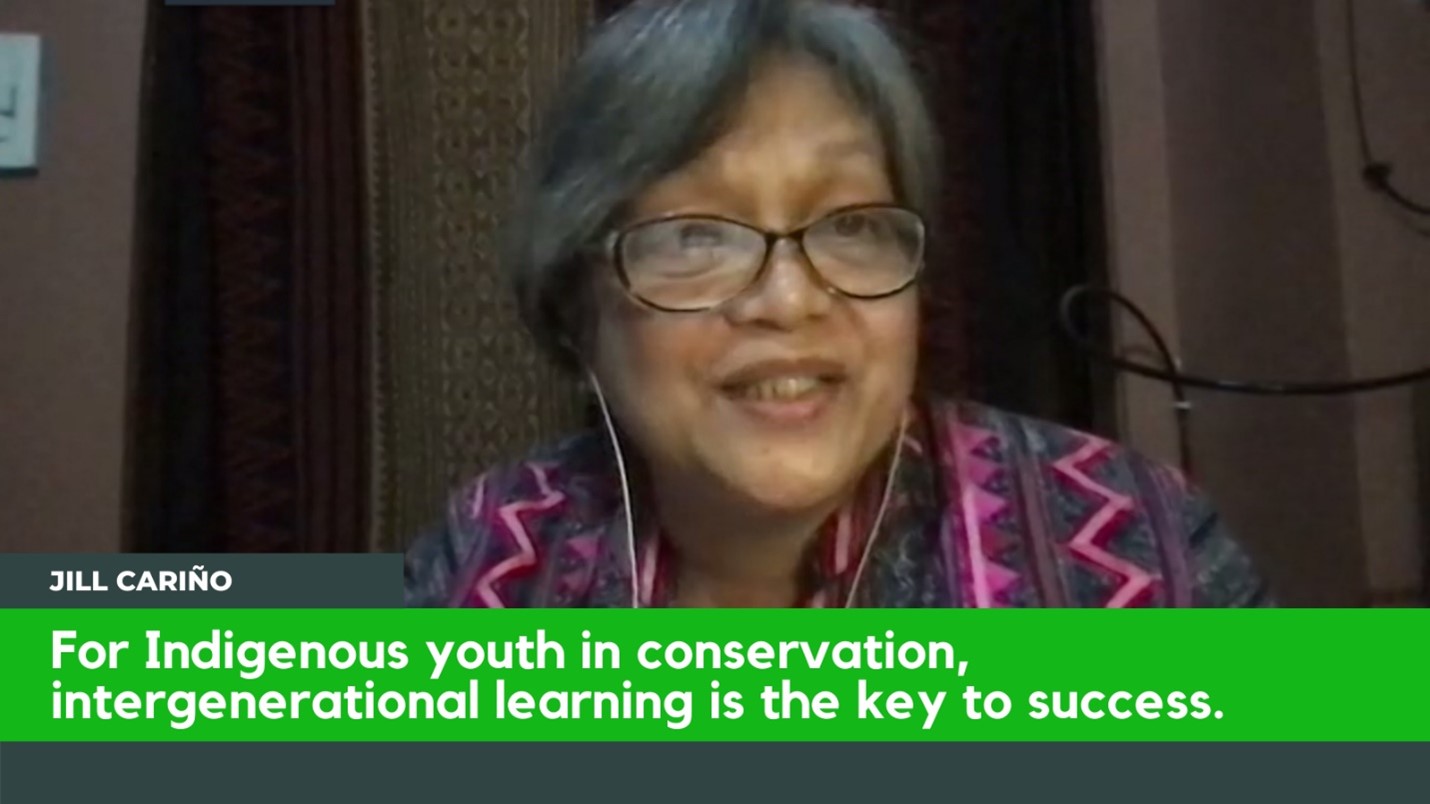 Veteran Indigenous rights defender Jill Cariño (Ibaloy) shared her perspectives on the key components to sustaining Indigenous peoples' movements in defending territories. The first key component, she said, is wisdom. We need to learn from the wisdom of our elders. Indigenous knowledge and values like community, solidarity, and care for the environment that evolved through time should guide us in our struggle. 
The second component is courage. We need the courage to defend our land from destruction and to fight against attacks on our people. The third component is energy and creativity, which are strong among the youth. Youth will take on leadership roles in the Indigenous movement, so ensuring intergenerational learning and transmission of knowledge will be crucial. 
The fourth component she talked about is passion and commitment for long-term struggles to defend our lands and territories, with continuous capacity building, organizing, education, and campaigning. And finally, she said that we need unity, solidarity, and support from fellow Indigenous and non-Indigenous environmental defenders, advocates, educators, media, artists, champions in the government, and intergovernmental bodies.
Also featured during the session were the music videos "Rap del Veedor" by young Indigenous rapper Gasel from the Yine people of Peru, and "Kullilipan," performed by cultural group Salidummay, telling the story of how the Igorot peoples of the Philippines defended their territories.
The many rich insights from the speakers brought valuable additions to the youth voices presented at the IUCN One Nature, One Future Global Youth Summit, held virtually from 5-16 April 2021. The outcomes of the Youth Summit will be brought to the IUCN World Conservation Congress, set to happen in Marseille, France, in September 2021, which help shape the process leading to the adoption of the post-2020 global biodiversity framework at the 15th meeting of the Conference of the Parties to the Convention on Biological Diversity.