The ICCA Consortium's Youth Group brought together diverse young leaders for several events in the IUCN One Nature, One Future Global Youth Summit, held virtually from 5-16 April 2021
Members of Youth for Territories of Life (the ICCA Consortium's Youth Group) actively contributed to the summit as workshop leaders, speakers, panelists, interpreters, and participants. It was an opportunity to engage with youth from around the world. The summit has benefitted them in sharing the crucial perspectives of Indigenous peoples and local communities as leaders in conservation. Joining organizations around the world, members of the ICCA Consortium Youth Group led workshops that aimed to create spaces for custodians to articulate and exchange their experiences, challenges, strategies in defending and sustaining their territories of life.
The first session, titled "Defending Territories of Life: Experiences and Strategies of Young Frontline Defenders," organized by the Youth Group on 8 April 2021, offered a space for intergenerational exchange between young defenders, elders, and supporters to find wisdom, strategies, and advice for sustaining the peoples' movement. For a recap of this session, please read this blog post.
The second session, titled "Sustaining Territories of Life in an Era of Uncertainty," was organized on 12 April 2021. The session brought together speakers from different regions in Latin America to share their knowledge and experiences on strategies and challenges faced in sustaining their territories of life.
Yamili Chan Dzul of U Yich Lu'um A. C. (ICCA Consortium Member) from Mexico reminded us about the important role that women play in ensuring food sovereignty in Indigenous territories of life. She spoke about the challenges many women face in securing land tenure and how this directly impacts the whole community's ability to ensure their well-being. Anayanky Selene Ahumada Gil of Nuiwari, A. C. (ICCA Consortium Member) from Mexico shared her experience with inter-community dialogues and how these can play a critical role for youth in defending territories of life.
The second part of the session focused on how youth from different regions are reclaiming their territories of life through music, science, and hunting.

Maria Carolina Rodriguez Acero (Cazadores y Pacifica, Colombia) spoke about how hunters in the El Valle region in Choco, Colombia, have been able to reclaim traditional hunting knowledge for wildlife conservation. The hunters have been using formal and non-formal education and intergenerational proposals for the revival of Indigenous knowledge.
Lucas Quintupuray (Mapuche, Argentina, and ICCA Consortium Council) commented on how music is one of the most powerful tools for young Indigenous leaders like himself to help them reclaim their identities and sustain their territories of life. Leonel Hoeffer (Comcaac, Mexico, and Honorary member) shared his experience of teaching other young people about sustaining the territories of life. He talked about how methods of data collection, regional research, participatory science can help with that.
Albert Chan Dzul (Regional Coordinator for Mesoamerica, ICCA Consortium) chaired, and Eleonora Fanari (Honorary member, ICCA Consortium) moderated this session. It was a thought-provoking session reminding us that reclaiming culture and identity is a critical part of sustaining territories of life. The discussion has reminded us how intergenerational dialogue, meaningful engagement of women and youth, and real and meaningful diversity (of people, knowledge, governance) are essential for sustaining territories of life.
Another session titled "Young Voices from the Amazon for the Planet" was co-organized on 6 and 7 April by Youth Group member Luciano Régis Cardoso. Rellac-Joven and their network of young leaders in protected and conserved areas in Latin America and the Caribbean joined hands in organizing the session. This session brought together youth of the Pan Amazon to discuss their visions for a just future, celebrate their diversity, and talk about issues relevant to the region.
High-level intergenerational dialogue on supporting and valuing the voice of Indigenous peoples
The dialogue on "Supporting and Valuing the Voice of Indigenous Peoples: the Role of Youth" held on 14 April 2021 featured Indigenous representatives from all over the world, including ICCA Consortium Youth Group Co-Chairs Lucas Quintupuray and Josefa Tauli, young filmmaker Kynan Tegar, and Lisa Young (Unama'ki Institute of Natural Resources, ICCA Consortium Member). Archana Soreng of Vasundhara (ICCA Consortium Member) moderated the session. Archana is also a member of the UN Secretary-General's Youth Advisory Group on Climate Change.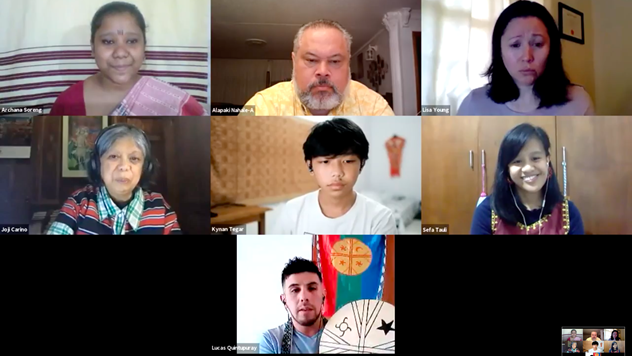 The dialogue became a forum for valuable exchanges from Indigenous leaders from different generations and cultures yet connected in shared histories and united in a common struggle for their rights and identities. It also sent a strong message that Indigenous peoples have always been leaders in conservation through lived experience and their deep connection with their lands. It also reminded the audience that the mainstream conservation community and the wider society must align them with Indigenous peoples. Further, it emphasized that there is a need to take a rights-based approach to conservation, taking steps to fully recognize Indigenous peoples' tenure rights, supporting the continuity of Indigenous knowledge systems and practices, supporting Indigenous youth, and addressing threats and attacks against environmental defenders. It also spotlighted the vibrant cultural diversity around the world manifesting in diverse cosmo-visions.
The dialogue offered valuable insights and advice about the importance of indigenizing institutions, practicing Indigenous knowledge and traditions, and meaningful ways to support Indigenous youth. Panelists talked about addressing the challenges to securing free, prior, and informed consent. They also discussed navigating the internal and external conflicts that come with defending Indigenous rights in different spaces.
It was a session filled with empathy, emotion, and wisdom.
Watch the full session on IUCN's YouTube channel.
Toward a rights-based global biodiversity framework
The outcomes of the IUCN Global Youth Summit will be presented to the IUCN Members' Assembly at the IUCN World Conservation Congress in Marseille, France, in September 2021 — a key moment on the road to the 15th meeting of the Conference of the Parties to the Convention on Biological Diversity in Kunming, China, and the adoption of a new global biodiversity framework for people and planet.