Global Witness's 2020 annual report on the killings of environmental and human rights defenders shows that lethal attacks on those who are defending Mother Earth are driven by the very same industries that are responsible for the climate crisis
By Milka Chepkorir (ICCA Consortium Coordinator, Defending Territories of Life)
On 13 September 2021, Global Witness released its annual report on the killings of environmental and human rights defenders, with this edition called "Last line of defence: The industries causing the climate crisis and attacks against land and environmental defenders." In 2020, the killings of 227 defenders were reported, a significant proportion of which were of Indigenous Peoples and local communities who are defending their collective lands and territories. There are fears that more defenders might have been killed in the same period with no reports made, since not all communities have enough capacity to make such killings known. In countries where governments have restricted free press and civic space, and where independent monitoring of these attacks is lacking, there is a high likelihood of underreporting of cases. Apart from the killings, it is also known that communities experience attempts to silence them, with tactics like death threats, surveillance, sexual violence, and criminalization – and that these kinds of attacks are even less well reported.
The reports indicate that 5 of the 7 mass killings in 2020 were of Indigenous Peoples, many of whom are from Latin America and the Philippines. For instance, four leaders from a Mayangna Indigenous community in the Bosawás Biosphere Reserve in Nicaragua were killed by dozens of armed settlers, with no justice in sight. In the Payan Island in the Philippines, 9 members of the Tumandok community were killed, in addition to the arbitrary arrest of 16 others, following their staunch resistance against displacement from their territories to pave the way for a mega dam.
Among the affected Indigenous Peoples and local communities, their territories have been lost particularly to cattle ranching, gold mining, and logging. These are activities carried out by companies that are in many ways contributing to the climate crisis the planet is currently facing. Resistance to these destructive industries has been the main cause for attacks and killings of many defenders. COVID-19 has exacerbated these cases since government protection was limited by the lockdowns and movement restrictions issued by governments in efforts to stop the spread of the virus, leading to defenders becoming 'easy targets' of surveillance and attacks in their homes. Furthermore, in several countries, harmful industries were allowed to continue operating in Indigenous territories despite the risks of spreading the virus (for example, in the Wampis Nation's territory in Peru).
READ MORE: "Impacts of COVID-19 on Human Rights Defenders and Resources for their Protection"
During the launch of the Global Witness report on 13 September, the European Commission's Deputy Director General called on companies/corporations within the EU to include aspects of self-monitoring with regards to social and human rights and the effectiveness of such regulations, if any. He mentioned that the EU is currently putting together and looking forward to publishing binding due diligence legislation, including an initiative on Sustainable Corporate Governance. Mary Lawlor, the UN Special Rapporteur on Human Rights Defenders, called for governments and corporations to respect human rights.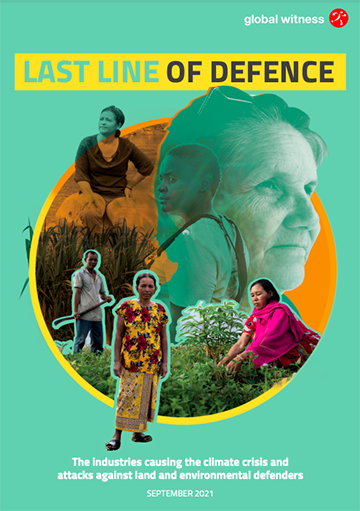 The ICCA Consortium remembers and grieves those who have paid the ultimate price for defending their collective lands and territories and stands in solidarity with their families, friends and colleagues. We support the report's recommendations and call upon governments to immediately stop and ensure accountability for the violations of rights and to respect, protect, and fulfill the rights of communities to their territories and ways of life. We also call upon corporations to put human rights ahead of their quests for profits and recognize Indigenous Peoples and local communities as rightsholders to be respected, rather than threatened and killed for standing up for their rights and the future of our planet.
Download Global Witness's 2020 report "Last line of defence"