On 1 February 2021, the military staged a coup d'état in Burma/Myanmar, sparking nation-wide demonstrations in an unprecedented surge of civic mobilization. The military has responded with brutal force and myriad repressive tactics. On 27 March 2021, it began a series of deadly airstrikes on Indigenous Karen villages in the heart of the award-winning Salween Peace Park in Karen State. The ICCA Consortium stands in solidarity and support with our Indigenous sisters and brothers of Burma/Myanmar and vehemently condemns all human rights violations and violence against innocent civilians.
Warning: This content includes disturbing information and images, including about human rights violations and violence against Indigenous peoples   On 1 February 2021, the military junta staged a coup d'état in Burma/Myanmar, arresting Aung San Suu Kyi and other civilian leaders and illegally overthrowing the democratically elected government. Since then, citizens of Myanmar have mobilized and taken to the streets in unprecedented demonstrations and displays of civil disobedience. The military junta has responded with brutal force and myriad repressive tactics, limiting citizens' access to the internet, cracking down on peaceful protests, arresting activists, journalists, civil servants, and students, and torturing and killing several detained people. On 27 March 2021 alone, security forces killed at least 107 people, including seven children, with hundreds more injured and detained. As of 5 April, nearly 550 people, including 43 children, have been killed since the coup began, with the actual numbers likely to be higher.
These actions have elicited an outcry and various warnings and sanctions from governments and diplomatic missions around the world, including the United States of America, European Union, United Kingdom, and Indonesia and Malaysia, among many others. In a joint statement on 28 March 2021, the United Nations (UN) High Commissioner for Human Rights and the UN Special Adviser on the Prevention of Genocide strongly condemned the military's widespread, lethal and increasingly systematic attacks against peaceful protesters, as well as other serious human rights violations since it seized power. On 31 March 2021, the UN Special Envoy for Myanmar told a closed session of the UN Security Council that "the urgency for a solution to this crisis could not be clearer" as the most serious crimes and violations of international law appear to be "happening in plain sight" and warned of "the possibility of civil war at an unprecedented scale." On 27 March 2021, the military junta began a series of deadly airstrikes on Day Bu Noh and surrounding villages in the heart of the Salween Peace Park (Salween Peace Parks' Report – PDF File) in the Mutraw (Hpapun) District in Karen State, as well as in other Karen areas outside of the Peace Park in Kler Lwee Htoo (Nyaunglebin) District. As of 1 April 2021, the military has carried out several aerial bomb attacks, killing at least 19 people, injuring at least 27 more and forcing several thousands to flee their villages in seek of refuge and shelter.
Around 3,000 Karen refugees have attempted to flee across the border into Thailand, with some being turned back by the Thai government. At least 20,000 villagers remain internally displaced, scared for their lives and hiding in the mountains and forests of the Salween Peace Park. The attacks are known to have destroyed and damaged many homes and buildings such as schools and a hospital. The extent of the damage to agricultural areas, cultural sites and the local environment is unknown at this point.
Thai military have push these Ei Tu Hta IDPs, who fled to Thailand to seek refuge, back to where Tatamadaw's jets are bombings. They are forced to return to killing zones! pic.twitter.com/fKCc8RhrAy

— Salween Peace Park (@SalweenP) March 29, 2021
Life of Karen people due to Burma Army's air strike attack in the Salween Peace Park pic.twitter.com/ZS1G51VhXn

— Salween Peace Park (@SalweenP) April 2, 2021
Between 15 and 23 April 2021, the Burmese army conducted more airstrikes on Indigenous peoples in the Karen state. The army has fired nine artillery rounds in the villages, causing destruction of properties and fear among villagers who have had to flee into the forests. The attack also killed one villager. The Burmese troops deployed in the Salween River have also fired shots at six boats ferrying villages across the river. The Salween Peace Park is a powerful Indigenous initiative that was declared by 348 Indigenous Karen villages in December 2018 to bring peace and harmony after 70 years of armed conflict. The Salween Peace Park is an Indigenous declaration of hope and a bold vision to fulfill three core aspirations of the Karen people: peace and self-determination, environmental integrity, and cultural survival.
Celebrating the establishment of the Salween Peace Park on 18 December 2018. Video: Karen Environmental and Social Action Network
However, despite the declaration of the Peace Park and a growing number of international awards, including the 2020 Equator Prize and 2020 Goldman Environmental Prize for Asia, the cloud of military occupation continued to hang over the area. The attacks since 27 March 2021 came after four months of intensifying Burmese artillery assaults on Karen villages in the Mutraw and Kler Lwee Htoo Districts. When the military staged the coup d'état on 1 February, their artillery attacks had already forced more than 5,000 Karen villagers to flee. For more information, read the Salween Peace Park's 2 April 2021 press release (PDF File) and 8-page report (PDF File): "Salween Peace Park Under Attack! Burmese military violence undermines Indigenous Karen conservation for peace." The UN Declaration on the Rights of Indigenous Peoples recognizes that Indigenous peoples have the collective right to live in freedom, peace, and security as distinct peoples and shall not be subjected to any act of genocide or any other act of violence (Article 7.2). Indigenous peoples, especially those who are defending their collective territories and rights, are the most targeted and at-risk for lethal and non-lethal attacks. Attacks on Indigenous peoples and ethnic minorities, especially in remote rural areas, often go unreported and unnoticed by global media, contributing to a lack of accountability and a culture of impunity for human rights and environmental violations. The airstrikes on innocent civilians within the Salween Peace Park and nearby villages are an assault on Indigenous peoples' right to self-determination and peace. They contribute to compounding traumas caused by the long-standing conflict with the military junta, including displacement, surveillance, harassment, sexual violence against women and girls, arbitrary arrests and enforced disappearances, and murder. The ICCA Consortium stands in solidarity and support with our Indigenous sisters and brothers of Burma/Myanmar and vehemently condemns all human rights violations and violence against Indigenous peoples, ethnic minorities, and innocent civilians.
On 5 April 2021, the ICCA Consortium released an open letter and call to action on the situation in Myanmar, calling on the following:
The Tatmadaw (military junta) to immediately stop killing, attacking, harassing, arresting, subjecting to enforced disappearance, and injuring Indigenous peoples who are residing peacefully in their traditional lands and territories and human rights defenders, journalists, and peaceful protesters who are engaged in peaceful protest and civil disobedience. All military officials and soldiers responsible for these violations of human rights must be held accountable.

The governments of the Association of Southeast Asian Nations (ASEAN) to review any tacit support they are giving the military regime that seized power in Myanmar, issue targeted sanctions against the regime, investigate any national companies that currently have ties to Myanmar's military regime and restrict these commercial ties until the legitimate, democratically elected government has returned to power.
The Thai Government to allow those fleeing the recent air attacks in northern Karen State to take shelter on the Thai side of the border and allow access for humanitarian aid to be delivered to these persons.

The UN Security Council, the European Union, and the governments of powerful member states to impose a global arms embargo against the military regime so that the regime loses access to weapons and equipment they have been using to violate the rights of Indigenous peoples and other citizens.

The international community to: deny recognition of the military regime; support Indigenous peoples and ethnic minorities of Myanmar, including those seeking refuge and urgent humanitarian response, and the citizens of Myanmar more broadly who are peacefully protesting the coup by the Tatmadaw (junta) and seeking the return of democracy and peace; and take all steps to bring to justice and hold accountable those responsible for human rights violations under international law.
More information will be posted here as it becomes available. Latest update: 5 April 2021
---
Updates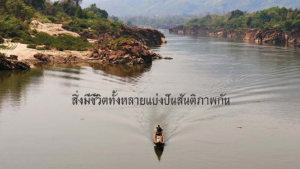 26 May 2021
---
Featured photo:Karen communities demanding that the Burmese military leave their territories. Unknown photographer, via Salween Peace Park